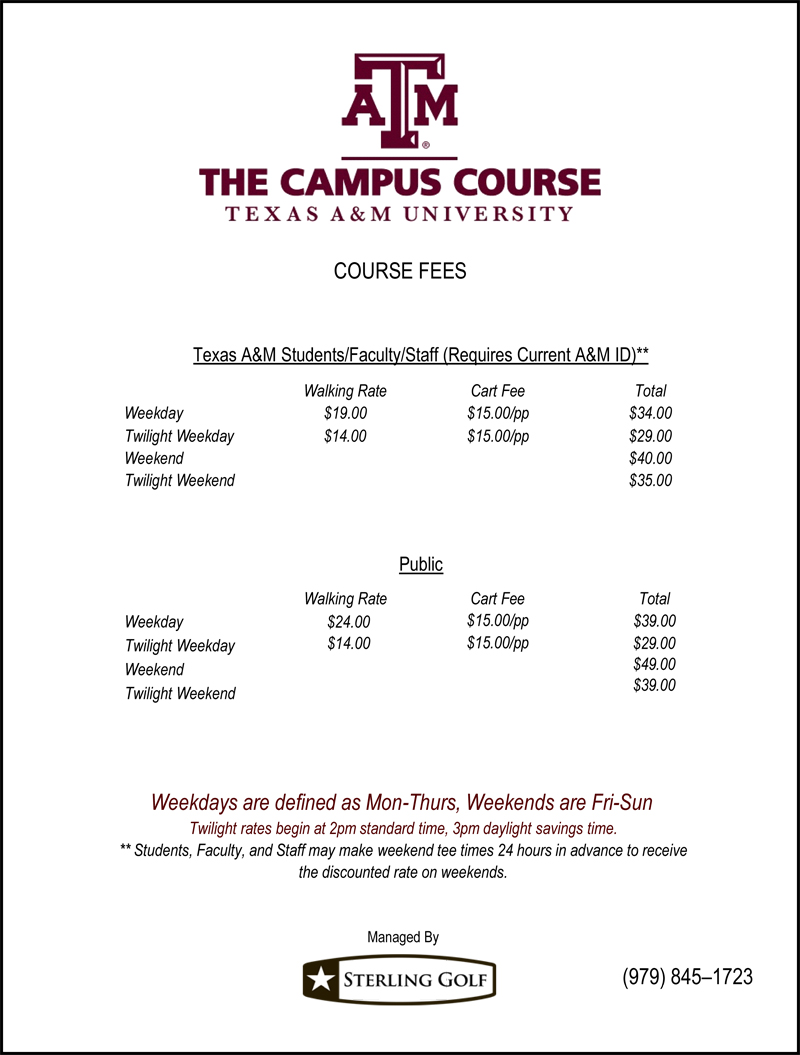 Range Balls
Medium Bucket - $5.50 (approx. 40 balls)
Large Bucket - $8.50 (approx. 80 balls)
Last bucket sold 45 minutes prior to sundown


°Twilight begins at 2 PM Standard time/ 3pm Daylight Savings time
*This rate includes a $15 cart fee. Carts are required on weekends and holidays. Sales tax is not included in this price.
Dress Code
Collared golf shirts are required on the premises. Blue jeans must be presentable. The Campus Course at Texas A&M requests that all patrons honor the dress code policy on the course as well as the practice facilities.
Rules of Operation
All golfers MUST register in the Golf Shop
All play begins on #1
Each golfer must have their own clubs and bag
NO OUTSIDE COOLERS OR BEVERAGES ALLOWED per TABC regulations
PACE OF PLAY- pace of play is very important to the enjoyment of the game. If you are out of position due to your slow play, you must speed up or will be moved to the appropriate position.
Texas A&M Student, Faculty, and Staff Policy
Students, faculty, and staff of Texas A&M University have the ability to book tee times 24 hours in advance to receive the discounted rate on weekends and holidays. Tee times made prior to this will be charged the general public rate.